Sixth MEDITERRANEAN CLIMATE OUTLOOK FORUM (ON-LINE)
April 12 - May 27, 2016
MedCOF-6 comprises 3 steps. The first one has been devoted to verification of the MedCOF-5 winter forecast; the second one to the assessment of current state of climate and, finally, the third one to the building of consensus statement.

Fifth MEDITERRANEAN CLIMATE OUTLOOK FORUM
Marrakech, Morocco, November 23-26, 2015
The Fifth Session of MedCOF (MedCOF-5) has taken place in Marrakech, Morocco, on 23-26 November 2015, kindly hosted by the Direction de la Meteorologie National of Morroco.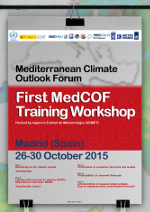 MedCOF 2015 Training Workshop
Madrid, Spain, 26-30 October 2015
First Training MedCOF Workshop on Seasonal Forecasting has taken place in Madrid, Spain, on 26-30 October 2015, hosted by Agencia Estatal de Meteorologia (AEMET).